AILLONS MARGÉRIAZ Electric Bike and Scooter Rental - AILLON SPORT BIKE Electric Bike Hire - Scooter, MTB online booking
AILLON SPORT BIKE - AILLONS MARGÉRIAZ - HOME
AILLONS MARGÉRIAZ Electric Bike and Scooter - AILLON SPORT BIKE Electric MTB Hire : book your bike equipment online ! You will have the best prices : up to 0% off on your equipment.
HOME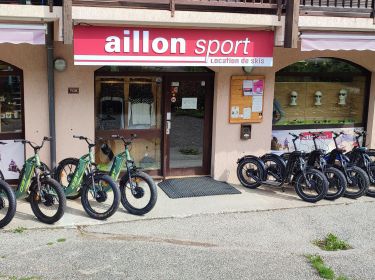 Welcome to AILLON SPORT BIKE - AILLONS MARGÉRIAZ
Electric MTB and scooter rental spécialist, AILLON SPORT BIKE brings you the reassurance of an appropriate and well maintained equipment at the best price / quality ratio.
AILLON SPORT BIKE - AILLONS MARGÉRIAZ has the choice, the professional approach and the experience to guide you in your choice of bike equipment. Add to that, our passion for cycling and you can't go wrong.
See you soon in AILLONS MARGÉRIAZ,
AILLON SPORT BIKE team

Zosh electric scooter rental
Asphalt, sand, dirt, snow… the Zosh all-terrain electric scooter will feel at ease everywhere and allow you to admire all types of landscapes...

Haibike eMTB rental
With our electric mountain bikes, tackle the trails or scale new heights and dominate descents on a full suspension eMTB.
AVAILABLE FOR RENTAL FROM JULY

Globe 3T electric scooter rental
Our Globe 3T scooter is the benchmark for All-Muntain electric scooters! It is suitable for technical routes, stony paths and recreational enduro.


Secure Payment
Information? Contact us...
04 79 54 62 55
Le Saint Anne
Aillons Margériaz 1000
73340 AILLON LE JEUNE